Is Lane Splitting Legal in Colorado?
A new law may help pave the way
A
new bill
has been presented at the Capitol that may help pave the way for lane splitting in Colorado. Presently, Colorado prohibits lane splitting, or passing another vehicle while traveling in the same lane or between rows of vehicles.
Rep. Ron Weinberg has introduced HB-23-1059 to
budget $75,000
on a motorcycle lane-splitting feasibility study. The Colorado Department of Transportation and Colorado State Patrol would research motorcycle lane splitting under the authority of Weinberg's bill.
According to Weinberg, the study will examine the benefits and any drawbacks of legalizing lane splitting in Colorado. Depending on the study's findings, Weinberg may propose legislation to make lane splitting legal in Colorado during the following legislative session.
Some text from the bill is below, but you can read the rest
here
-
"5 THE DEPARTMENT, IN COLLABORATION WITH THE COLORADO STATE
6 PATROL, SHALL STUDY THE FEASIBILITY OF PERMITTING MOTORCYCLES TO
7 PASS OR OVERTAKE A MOTOR VEHICLE BY DRIVING ALONGSIDE THE MOTOR
8 VEHICLE IN THE SAME LANE OR DRIVING BETWEEN ROWS OF STOPPED OR
9 MOVING MOTOR VEHICLES, REFERRED TO IN THIS SECTION AS "LANE
10 SPLITTING". THE STUDY MUST, AT A MINIMUM:
11 (a) IDENTIFY AND ANALYZE THE BENEFITS AND DRAWBACKS OF
12 PERMITTING MOTORCYCLE LANE SPLITTING; AND
13 (b) IDENTIFY POTENTIAL SAFETY ISSUES RELATED TO PERMITTING
14 MOTORCYCLE LANE SPLITTING."
If you're one of the many drivers who hears the term "lane splitting" and immediately imagines a 100mph sport bike zipping between you and another vehicle on I-70, you may actually like where this may go.
A couple of specific and consistent things Rep. Weinberg has mentioned multiple times are 40mph speed limit or a 40mph zone and stopped traffic. When he discussed this topic at length on Jayson Luber's
podcast
, his references for what he wanted to see sounded less like California's lane-splitting and more like other states' lane-filtering definitions.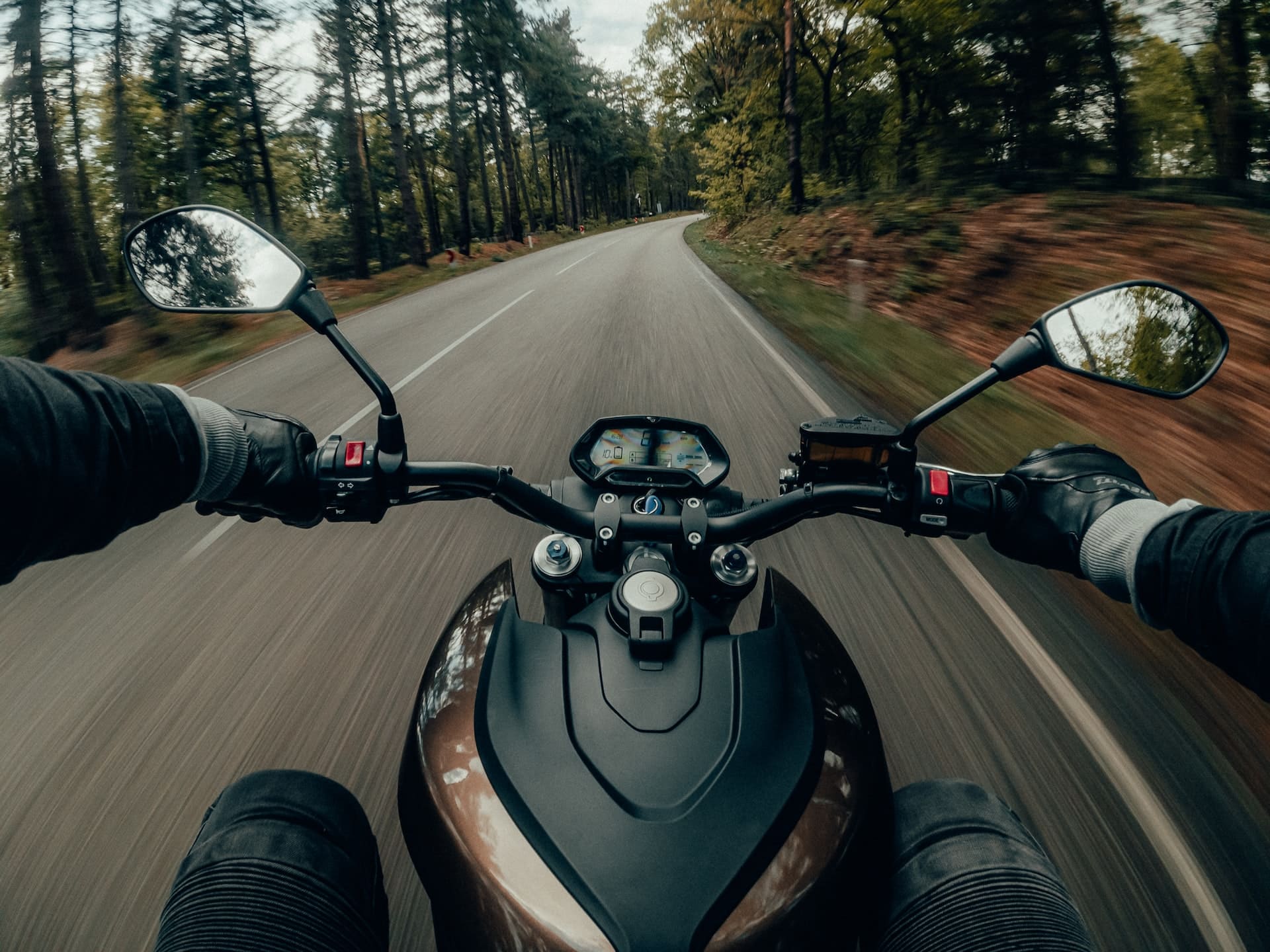 What's the difference between lane splitting from lane-filtering?
In situations of stop-and-go or rush hour traffic, lane splitting turns into a fuel-saving, rider-protecting strategy. While lane splitting is permitted on all highways in California, some other states have legalized the practice with restrictions on the conditions and kind of roadways that the move is permitted on.
Lane filtering allows a motorcycle to trickle down between rows of stopped or slowly moving vehicles, as opposed to lane splitting, which enables a motorcycle to travel between rows of driving vehicles. Riders can move forward in the line by using this tactic, which is frequently seen at stoplights. Because motorcycles can accelerate to speed in a fraction of the time, this enables them to take off quickly with little to no delay for other vehicles.
Lane filtering is typically prohibited between a lane of moving traffic and a line of parked cars, a curb, or both. In many cities, such as Denver, these areas are often bicycle lanes. Each State has its own lane filtering regulations and definitions.
The speed of the nearby vehicles and the situation also determines the difference between lane splitting and filtering (rush hour traffic versus intersections). In many of the states that allow lane-filtering, a motorcycle would not be able to ride faster than 20mph between slow moving traffic while other states require traffic to be stopped.
In every state where lane splitting or lane filtering is allowed, if a motorcyclist doesn't feel comfortable, they are not required to lane split or filter.
Where is Lane-splitting legal?
California is currently the only state where lane splitting isn't illegal. No specific law was passed stating the conditions when lane splitting is allowed.
Instead, the DMV has three guidelines on how to lane-split safely.
1. When traffic is moving slower than 30mph
2. Don't travel more than 10mph faster than other traffic
3. Don't lane split around on-ramps and exits
Where is lane-filtering legal?
Arizona
The three requirements are:
1. Speed limit less than 45mph
2. Motorcycle rider cannot travel faster than 15mph
3. Traffic must be stopped
Montana
Traffic must be moving less than 10mph and the motorcycle rider's speed can't be more than 10mph faster than traffic.
Hawaii
Motorcycles can't ride between lanes, but they can ride on the shoulder no faster than 10mph to pass stopped traffic. The rider cannot make any turns from the shoulder as well.
Utah
When traffic is stopped in an area with a 45mph speed limit or less, the motorcycle rider can ride between traffic no faster than 15mph.
What are the safety benefits of lane-splitting?
There are three main advantages of lane splitting:
Simply put -
it's safer
. It has been established that motorcycle riders who split lanes suffer fewer and less severe injuries and are rear-ended less frequently.
A reduction in traffic is another benefit. Motorcycle riders occupy the same amount of space as cars on the road. Traffic in many situations would move quicker when motorcycles are allowed to escape to the front.
It reduces overheating in motorcycles. Idling in traffic could lead to overheating in motorcycles with air-cooled engines, which rely on fuel, lubrication, and airflow to keep the engine cool.
What are the negative aspects to lane-splitting?
An obvious lane splitting hazard is a car that tries to change lanes without signaling or checking that the travel lane is clear. When there is a lot of traffic, drivers tend to quickly look over their shoulders to see if there's enough space for their car instead of looking for approaching motorcycles before changing lanes.
Compared to driving a car, riding a motorcycle requires a higher level of ability, training, and awareness of one's surroundings. Riders will need to account for the size of the cars the rider wants to pass, the width of the lanes, the speed of the traffic, and other factors for lane splitting in Colorado to be safe.
Is lane splitting safe?
Yes.
Surprisingly to most, an academic study published in 2015 proved that it's a safe practice
when done properly
. The University of California Berkeley's Safe Transportation Research & Education Center released the findings of their study in a report titled "Motorcycle Lane-splitting and Safety in Califonria."
Data showed that motorcycle riders who split lanes suffered injuries substantially less frequently in crashes.
Injuries to the head (9% vs. 17%), torso (19% vs. 29%), extremities (60% vs. 66%), and fatal injuries (1.2% vs. 3.0%) were less common among lane splitting riders.
Finally, riders who split lanes had a considerably lower chance of being rear-ended than other riders (2.6% vs. 4.6%).
Conclusion
We're excited that one of our state legislators wants to study new ways to keep Coloradans safe on our roads. Even if this new bill passes, there's no guarantee that any new Colorado lane-splitting laws will be proposed or passed, but for many motorcycle riders, this is a step in the right direction.
If a new Colorado lane-splitting or lane-filtering law is passed, what happens if you are hurt by a careless driver?
Similar to other drivers, motorcyclists have the right to pursue financial and emotional damages for harms incurred as a result of another driver's reckless or dangerous actions. If you are following the law while riding your motorcycle and are injured by another driver, then this type of crash would be very similar to many of our other cases we've successfully litigated.
How can a motorcycle accident attorney help?
Many individuals believe that motorcycles are always to blame for an accident, including those in the legal, insurance, and medical fields. This makes it challenging to prove any
motorcycle accident
case, but our attorneys are up to the challenge.
Our attorneys ride motorcycles and know the negative stereotypes motorcycle riders have. You deserve a legal team that understands that many law-abiding people enjoy riding motorcycles and that everyone has the right to seek compensation for injuries brought on by the negligence of others is necessary for motorcyclists who have been hurt.
If you've been injured in a motorcycle accident, call Metier Law Firm for a
free consultation
. Our motorcycle accident attorneys have decades of experience fighting for injured riders' rights.