The 2022 Holiday season is expected to be one of the busiest for travelers on roads and highways. Unfortunately, the holiday season is also one of the busiest for car crashes too.
According to AAA, more than 54 million people were supposed to drive 50 miles or more for Thanksgiving - the busiest since they started keeping track in 2000. The same is expected for the holidays this month.
Based on historical and recent travel trends, expect the greatest amount of Holiday traffic congestion before Christmas – Dec 21 through Dec 23 – in the late afternoons. If you must be on the road, the best time will be after 7 p.m. on Dec. 23 or before 1 p.m. on Dec. 24.
As people head home from Christmas and Hanukkah celebrations, you should also expect plenty of traffic Monday, Dec. 26 in the early afternoon from travelers that will get compounded in the late afternoon by commuters leaving work.
The days with the least amount of congestion should be Christmas day (Dec. 25) and New Years Day (Jan 1).
A full list of the best and worst times for traffic are
below
.
5 Tips to avoid car crashes during 2022 Holidays
Plan your route
As a general rule, it's best to avoid traveling through any major city during peak travel times. If you absolutely need to be on the road, reduce your chances of a car crash by avoiding the most dangerous intersections in Denver, Colorado Springs and Fort Collins.
Map apps make it easy to program your route, check traffic, and adjust accordingly. Many apps have features that allow users to set arrival times and stops along the route.
Time your departure to avoid traffic
If you cannot avoid driving through a major city, you can at least plan your trip during the best times to drive over Christmas. to drive when the roads have the fewest number of other vehicles.
The recommended times to begin your drive are typically after the morning commute but before the afternoon congestion. The roads will likely have fewer drivers.
Speeding is one of the most common causes for car crashes. Planning your departure with enough time to get to your destination means you can take your time and drive safely.
Pack your car early
Many people complete their road trip preparations the day of departure. Preparations can include wrapping gifts, packing overnight bags or getting fuel.
Anything that does not ABSOLUTELY need to be done immediately before leaving your home should be done the day before. To save time and alleviate stress, finish any task the day before your trip.
If you can't pack the car the night before, put everything you will be taking with you by the front door before going to bed. Instead of frantically packing your bag the morning of and worrying that you forgot something like a phone charger or your son, Kevin, you can casually pick up your fully packed bag(s) on the way out the door.
Secure loose items
Many gifts have been crushed and delicious food dishes ruined from a bag falling onto them while driving on a curve or stopping too suddenly. Loose items in your car can also be dangerous to passengers in crashes – particularly rollover crashes. Use your trunk or covered cargo area of your vehicle for luggage and loose items.
Bungee cargo nets are a great way to secure any loose cargo, and if you find that you need more room, there are many affordable cargo carrier options that fit into trailer hitches or roof racks.
Be prepared for the worst
Over the next couple of weeks, make sure your vehicle is ready for winter conditions. Monitor tire pressure, test the battery, replace windshield wipers and make sure all headlights and brake lights are in working condition.
In case of an emergency, be prepared by keeping a cell phone charger and fully charged battery bank in your vehicle at all times. Carry an emergency kit with a flashlight, jumper cables, a first-aid kit, sleeping bags, gloves, a battery-powered radio and extra water.
Best and Worst times to drive during 2022 Holiday Season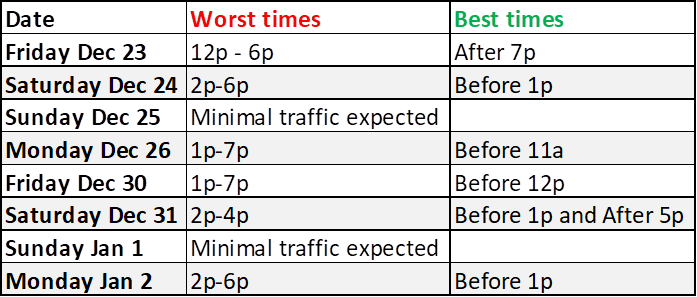 Talk to our Colorado Car Accident Attorneys
If you find yourself to be the victim of a careless driver this Holiday season,
contact
Metier Law Firm today for help with your injury claim. We have over 40 years experience fighting for people who have been seriously injured in car crashes. Talk to one of our legal team members today about your car accident during a
free consultation
.